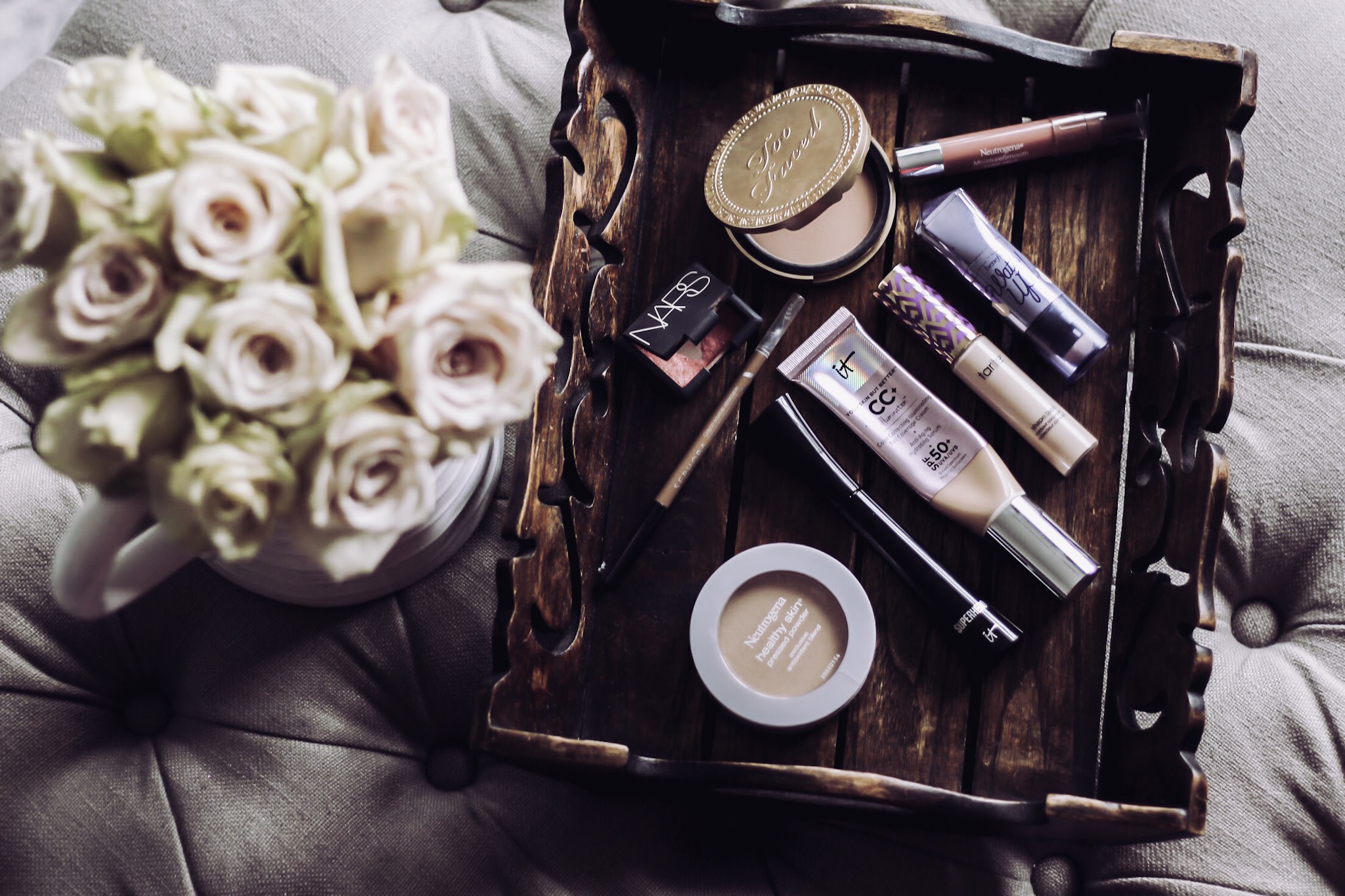 One of the most frequently asked questions I receive on social media is about the makeup products I use. Seeing as how I haven't done a beauty post in several months, I figured it was time to update you on my go-to products. I've been using some of these for over a year and some only a month, but I highly recommend them all for you to try!
What's great about most of these products is that they're buildable- meaning that with each application, you can achieve either a natural/light coverage look or a glam, full coverage face. I did a quick makeup tutorial using all of these products on my Instagram stories, which I'll save in the highlights for you to watch and refer back to. Head to my Instagram HERE!
itCosmetics CC (illumination) Cream: I've been using this CC cream for almost 2 years and don't plan on changing any time soon. One pump will give you the slightest amount of coverage and even out your skin tone. If you apply one pump's worth, but decide you need more coverage, go back in with a second pump and apply. I've tried applying it with various types of brushes and beauty blenders, but I think it works best with your fingers!
TARTE Shape Tape Concealer: A little goes a LONG way with this product, so apply sparingly and the tube will last awhile!
Too Faced Chocolate Soleil Bronzer: Not only is this bronzer the best, but it smells like chocolate. Who doesn't want that?! I have it in the color medium/deep matte, so it's perfect for contouring and all over bronzing. I also apply it in the crease of my eyelid to give my lid a little bit of color and definition.
itCosmetics Super Hero Mascara: By far the best mascara I've ever used. I'm hooked! It makes my lashes extra long and voluminous, but it doesn't leave fallout under my eye or on my eyelid.
Benefit Watts Up Highlighter: For added glow back to the face, I love this highlighter by Benefit. I add a little to the tops of my cheekbones and on my forehead above my eyebrows, then blend it in with a damp beauty blender.
NARS Blush: For a pretty, every day blush I love the color "Orgasm."
Sephora Brow Pencil: For $12, you can't really beat this pencil. I love that I don't have to sharpen it (retractable) and it lasts a long time.
Neutrogena Healthy Skin Pressed Powder: Great for setting your foundation and adds a little more coverage to your makeup!
Neutrogena Mosiure Smooth Color Sticks: This is the newest product to my routine, and I'm obsessed with this lip crayon. They come in a handful of colors (my favorite is "Almond Nude"), and are less than $10. Very hydrating and smooth!
And that's everything! Let me know if you have any questions or if you end up trying some of these products! I'd love to hear your thoughts :)
Xo- BB